Reiteration – Bodycall's new release
Last update:19 September, 2012
| Author: Andy | Category:
News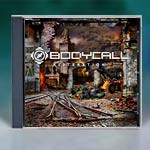 We are pleased to announce, that new Bodycall's release is on its way. An EP called "Reiteration" consisting of 6 songs is going to be published within the next two weeks.
This release is a kind of side effect that sprouted off the full-length material we are working on now. Reiteration is a club oriented piece of fast, dark electro and aggrotech music.
Reiteration contains remix of our very old song "Dancing in the Dark" (originally published in 2003), two versions of "My War" (vocals recorded in 2003 or so, the song has never been published), remixes of our relatively new songs "Naked Life" and "Disintegration" and a  brand new instrumental song "Reiteration".
We have been creating various remixes and versions over the last months, mostly just to experiment and try different things while working on our new material. Even though the vocals on this EP come from various points in time, we created a consistent formula for them and the music has been written from scratch.
The title is self explanatory, the EP is a repetition and revisit to the songs we believe could be done better on in a different way. This release serves also another purpose: to keep in touch with those who follow us and to let them know that we are alive and kicking.
As other Bodycall's releases, Reiteration is going to be available as free mp3 and FLAC downloads. We hope you will enjoy it.