Remix for Monolight
Last update:19 September, 2012
| Author: Andy | Category:
News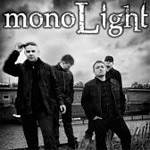 We have recently created a remix for our friends from Monolight. Bit of a challenge, as it turned out to be quite difficult to use rock-style vocals for dark electronic song.
We could choose a song for the remix by ourselves, so we picked the one called "How Close Am I", mainly because the song is quite fast and the vocals are dynamic.
After some experiments we came up with a nice and raw EBM-ish remix with some dark electro flavour as well. We were trying to keep the original character of the song while making it a danceable tune. Also, we had a lot of fun, as this is not the kind of music we normally do nowdays – it just turned out this way.
Monolight are friends of ours and come from our native Wroclaw. The guys are probably better known as independent scene's DJs and party organisers. Their music is a mixture of metal/rock with electronic elements. Check out their myspace for more information and more music.
Click here to download this remix in high quality mp3.