Somatic Turn – Re-released
Last update:16 September, 2012
| Author: Andy | Category:
News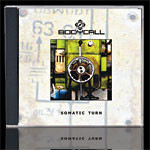 Physical copies of our debiut 2003 release "Somatic Turn" can be purchased from Halotan Records. Keenly priced at €3.50 it can make a nice addition to your CD collection.
Sound-wise the release has not been changed or altered in any way. The only difference between the current and original ones is that some new cover artwork has been added. This was just to comply with Halotan Records' standard, as the original 2003 version was released in cardboard box.
The cover artwork can be used in two ways so you can achieve new, re-release layout or the original one.
Somatic Turn can be purchased in halotan Records Shop. Free mp3 download is of course still available here.