Mechanically Recovered Meat hits mastering stage
Last update:20 September, 2012
| Author: Andy | Category:
News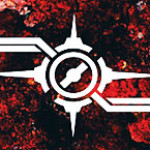 We had originally planned to release new material along with some remixes of old songs, but now we are going to release an EP with remixes first, then the new materials on a separate album.
We just do not want to mix new stuff with old.
The remixes are a perfect bridge between our old EBM/synthpop songs and the new harsher dark electro material we are currently working on. The remix EP entitled "Mechanically Recovered Meat" will be released at some stage in January 2009.
To be informed about the release date, please subscribe to our newsletter.