Mechanically Recovered Meat
Last update:20 September, 2012
| Author: Andy | Category:
News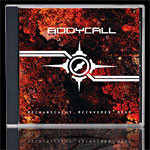 We are pleased to announce our new release – Mechanically Recovered Meat EP – now available in download section.
The release contains 5 remixed songs that can be described as dark electro or aggrotech. You can also listen to them in the player on the right.
This EP is a stylistic bridge between our old EBM/Sythpop style and the new harsher dark electro / aggrotech songs we are preparing now.
Enjoy this for now and come back soon, as now we are directing all our resources to the new, harder, heavier, more violent and aggresive album.