FLAC Downloads coming soon
Last update:20 September, 2012
| Author: Andy | Category:
News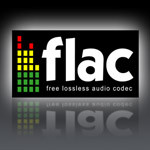 We are aware that there is a growing number of people who build their music collections only in the best quality available. To cater for the need of the cutting-edge audio quality we are going to offer free downloads in FLAC format starting first week of October.
At first we are going to release "Mechanically Recovered Meat" in FLAC and we'll see how it goes. The rest of our dark electronic stuff should follow afterwards.
As this website enjoys quite a good traffic, we will have to test for couple of days to find out what impact FLAC downloads have on our bandwidth.
Apart from direct downloads, we plan to offer FLAC torrent downloads as well (the advantage is they do not require un-packing) to ease a bit our server load.
For those who have completely no clue what FLAC is – this is loseless audio format. This means, that while the file size is smaller than the wav file on the original audio CD, the sound quality is exactly as if you were playing the original CD.
In mp3 compression an amount of quality is lost forever, even at high bitrates – this is the difference.
Detailed information can be found in this faq.