Bodycall's Discography-FLAC download
Last update:20 September, 2012
| Author: Andy | Category:
News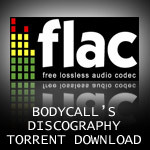 We have just decided to release our full discography as a single FLAC download. Our music is already available for download in FLAC format, but here you can download it in one chunk as torrent download. Click here to start downloading. The download size is 843 Mb.
The advantage of torrent is a very high download speed – practically as fast as your internet connection – and you do not have to unpack files. You do not have to worry about broken or paused download – thanks to the nature of the torrent network downloads can be resumed at any stage. Torrent is probably the only way for us to deliver you such a big piece of data (nearly one gigabyte) and be sure you will get it no problem.
This download contains our old release, "Somatic Turn" – it is not available yet in our "Flac downloads" section.
FLAC format is a loseless type of audio compression. It means, that the sound quality is exactly the same as on CD. In mp3 there is a loss of the quality, even in high bitrates. FLAC files can be played in Winamp and Foobar without installing any extra plugins. We are sure that this is also the case with many other players, the format seems to be quite widely adopted.
Have fun and enjoy our music.