Bodycall on Halotan Sounds Vol. 1.0
Last update:19 September, 2012
| Author: Andy | Category:
News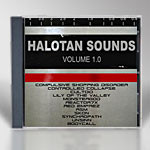 Bodycall's own-brand label, Halotan Records has just released a Polish dark electronic scene's compilation – Halotan Sounds Vol. 1.0. Our song "Naked Life (Biometric Mix)" is also featuring on this compilation. You can download the whole compilation here.
We have to admit that we have neglected our own musci making recently, all due to preparations for the release of Halotan Sounds compilation. The release shows the state of affairs in Polish dark electronic scene. Its style varies from dark electro to synthpop, ensuring that everyone will find somenthing to suit their taste.
We strongly recommend Halotan Sounds to you, as we are certain that you are going to be pleasantly surprised.