Red Emprez – industrial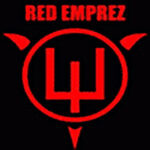 Red Emprez has been present on Polish scene since 2004. They describe their own style as mixture of electro, industrial and neo 80's, however we would also add synthpop to this lot, as this genre has certainly influenced them as well.
This talented band embraces the full freedom of creation that is a part of being an independent band, what led to creating their own, unique style.
Red Emprez is a very active band concert-wise, they have played numerous gigs around Poland and Europe so far. The year 2010 is going to be no different for Red Emprez, as the band is preparing to play alongisde industrial fame Combichrist in March, and in the Summer they will appear on the Castle Party Festival for the second time.
Recently the band decided to release their full discography as free mp3 downloads. This is a nice surprise, as the band is certeinly on the full professional level. The downloads are available under the following link:
http://www.jamendo.com/en/artist/Red_Emprez_(2)
You can also visit the Red Emprez official website, http://www.redemprez.com
We would also strongly recommend Red Emprez if you are looking for a band to add some fresh air to your event, as they are professional on stage and would suit a wide variety of listeners.