Controlled Collapse – polish industrial band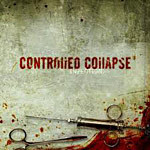 Controlled Collapse is one of the most internationally recognised Polish electronic bands nowdays. A project of Wojciech 'kr-lik' Król, it managed to made it through to the international level.
Controlled Collapse's music can be placed somewhere in electro-industrial genre, with dark electro influences.
In 2007 Controlled Collapse signed to Noise Terror Productions label and released its debiut album "Injection". The release received a number of enthusiastic rewievs internationally. At present Wojciech is busy working on the new Controlled Collapse's material, as well as DJ-ing on various Dark Independent events.
On the project's myspace you can listen to some music and purchase a CD. http://www.myspace.com/ccollapse
In 2011 Controlled Collapse played a very successfull gig at Castle Party. Among the crowd of fans you could spot the one and only… Johan van Roy from Suicide Commando. He seemed to enjoy the show a lot.
The one thing has to be said about CC – when playing live they sound much more aggresive than on their albums. Gigs are certainly enjoyable so if you have an opportunity go and see them, it is well worth your time.