Castle Party – Poland, Bolkow 2013
Last update:23 September, 2012
| Author: Andy | Category:
Blog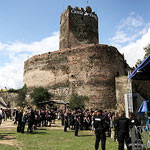 It is no wonder that being Polish ourselves, we would like to take the opportunity and recommend you an event in our native Poland. Allow us to introduce Castle Party, the biggest Polish, and in fact Central European Dark Independent Festival.
Good news for 2013! Vnv Nation and Icon of Coil are confirmed headliners of Castle Party 2013.

Castle Party takes place every summer in Bolkow, Poland. In 2013 it is going to be 12-14 July. Usually it is three days of live Goth, Dark Electro, Darkwave and similiar music on two stages erected in Bolkow Castle. This unique setting and the atmosphere of a sleepy Polish town taken over by the black dressed crowd makes this festival absolutely special.
About Castle Party
Despite of quite significant number of foreign participants, Castle Party does not seem to be well advertised in Europe. We believe that the festival has a lot to offer even (or maybe especially) to those used to big German festivals.
Over the years the quality of the bands invited to the festival has significantly improved, with Covenant and Front 242 as the headliners in the year 2009, Diary of Dreams, Project Pitchfork and Suicide Commado being the main acts of 2011 , Combichrist being a headliner in 2012 and so on.  Castle Party starts on Friday afternoon, and the concerts continue every day until Sunday, starting around 2:00pm and lasting until about midnight.
However the concerts in the castle begin on Friday, the whole festival starts on Thursday. There are parties in the clubs on Thursday night, some concerts take place in clubs on that day. So it makes perfect sense to come on Thursday, as it means one day of Castle Party more.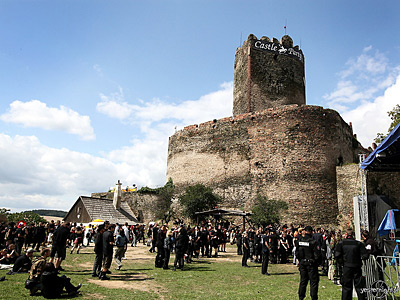 Photo credit: Bartosz Sarama / yesternight.pl (2009) – the fans slowly gathering in the outer courtyard of the castle… You will find links to more Castle Party photo Galleries at the bottom of this page.
For a day-by-day list of all festival events please refer to the lineup section here (2012 version). This list is being constantly updated and the club events are added around June/July, just before the festival, so it makes sense to have a look from time to time as the list does change and new stuff is being added.