Mechanicznie Odzyskane Mięso – podano do stołu!
Last update:20 September, 2012
| Author: Andy | Category:
Newsy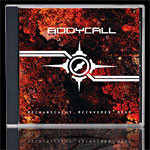 Smakołyk dla fanów mroku, huku, wrzasku i łomotu podlanego syntetyczno-technicznym sosem właśnie wylądował w dziale download. "Mechanically Recovered Meat" jest oficjalnie dostępny – zapraszamy do ściągania.
EPka jest także dostępna do odsłuchania w playerze po prawej stronie, więc bez zbędnego gadania zpraszamy do posłuchania.
To wydawnictwo jest pomostem pomiędzy naszymi starszymi EBMowo Synthpopowmi dokonaniami a nowym dużo agresywniejszym materiałem jaki przygotowujemy.
Stylistycznie to wydawnictwo kwalifikuje się jako aggrotech lub dark electro. Jest to muzyka zorientowana na kluby i imprezy. Melodyjne syntezatory i mocny, selektywny beat jest znakiem firmowym tej EP-ki.
Życzymy przyjemnego słuchania,
Bodycall