Dark Electro Samples Download – kick drum pack
Last update:20 September, 2012
| Author: Andy | Category:
Blog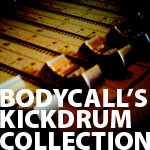 When you start creating you own dark electro / industrial tunes you usually find it hard to find some decent sounding drum samples. Kick drums are probably the most important, and it also is not easy to find some nice ones for industrial music. It is not very popular musical style.
As we are taking a week's break from making music (it is good to start with fresh ears) we took our time and compiled this free kick drum sample set.
to download our kickdrum sample pack (1MB)
The sample quality is 32 bit floating point, wav format. The sample pack contains 10 different kick drums suitable for use in industrial/cyber-goth etc style of music.
Be sure to use a tiny bit of reverb (do not forget to cut off the low frequencies from the reverb itself) on them and distortion when needed – we did not distort them too much so you can adjust this to your taste.
You are free to use those samples in whatever way you want. This is it, have fun making your own dark electro tunes. If you have nothing better to do add your comment and tell us what you think about this sample pack.
Stay evil,
Bodycall